PUR3 – Coming Summer 2022
Rewaco PUR3 Gran Turismo
The new era begins!
The rewaco PUR3 Gran Turismo combines modern design with attention to detail and technology that guarantees absolute driving pleasure. PUR3 stands for the pure trike experience of the 3rd generation.
Sheer driving pleasure, Pure design.
30 years of experience make the PUR3 Gran Turismo the rewaco model with the most intensive development with the aim to build the best rewaco trike ever.
For the PUR3 Gran Turismo and all new rewaco trikes to follow in the future, in addition to modern design, the thought of service maintenence and care is not neglected. Even before the body design was developed, the focus was on restructuring the technical components. Each new rewaco trike should combine the best of design and technology. This includes the completely hinged body as already known from the RF1 ST models.
This new and tidy technology not only forms a harmony with the fresh new design but also facilitates service and thus reduces the associated running costs.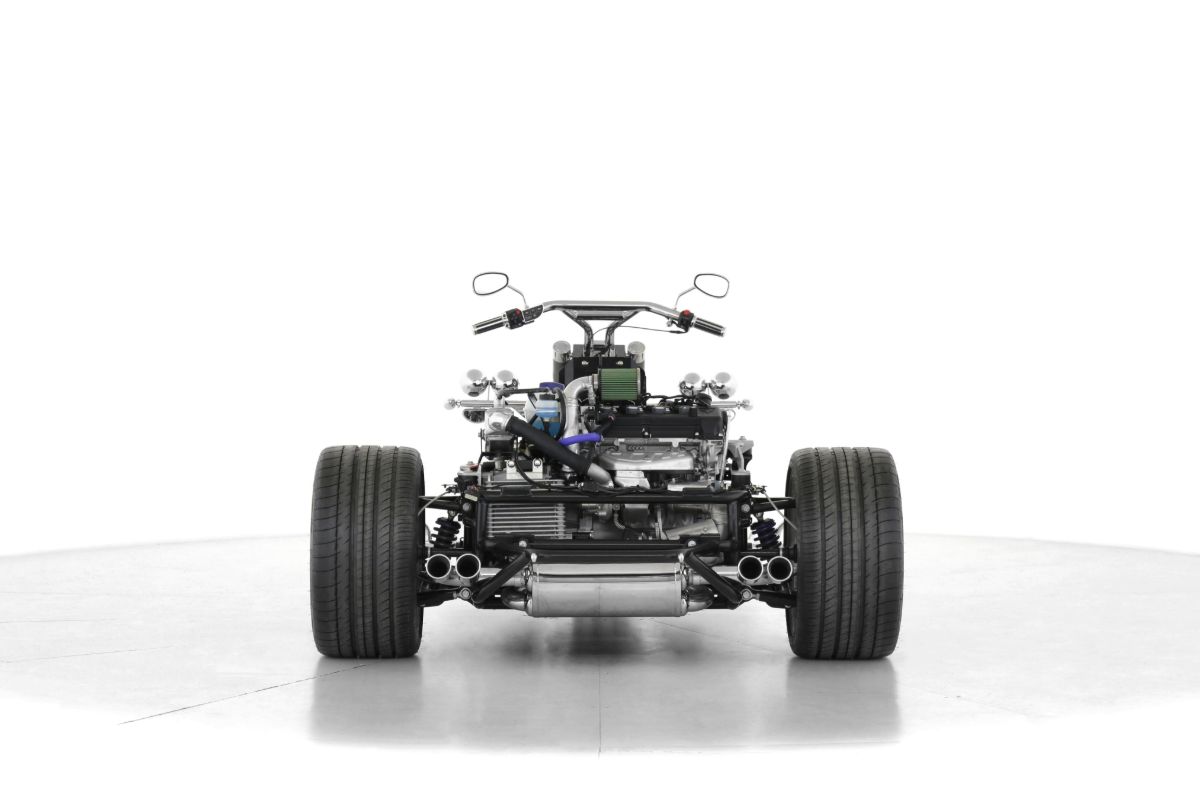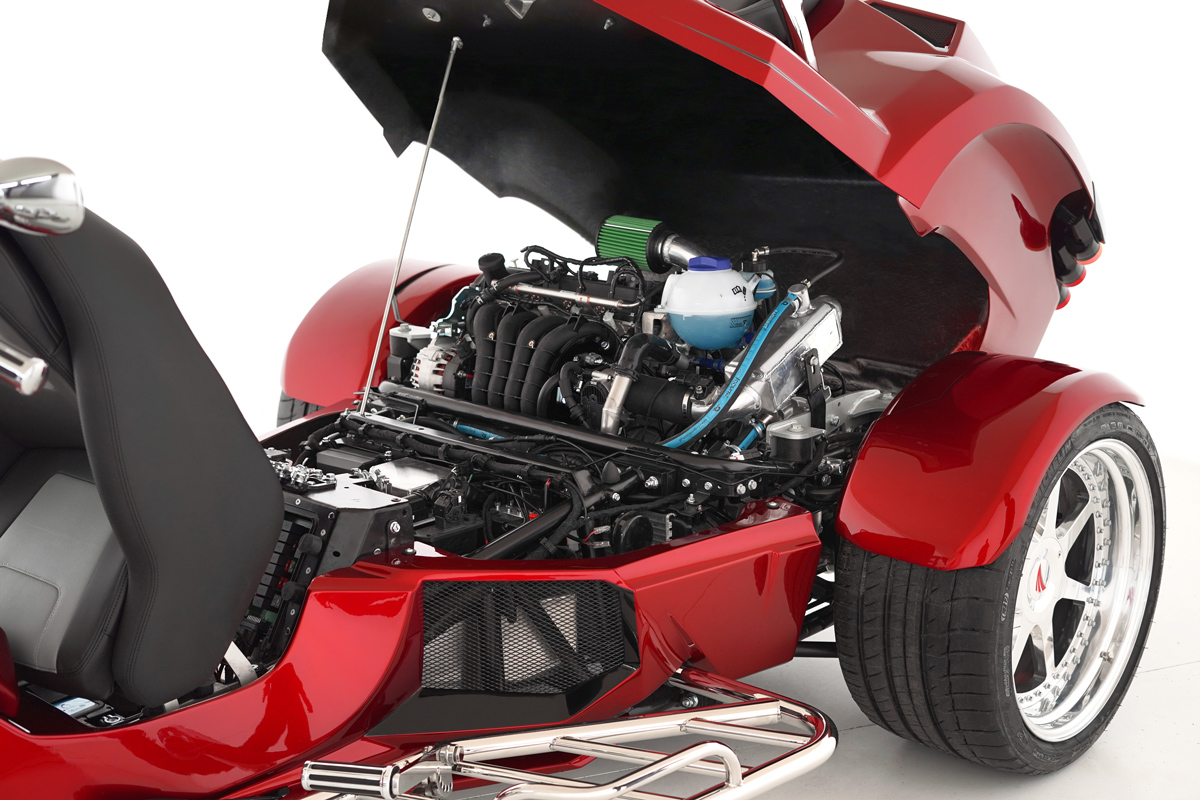 ---
History:
Rewaco trikes was founded in Germany, and has been in operation since 1990. It started off with the classic Volkswagen and RevTech rear mounted engines, but has since been continuously improving to become quicker, smoother, and continues to meet all safety requirements in Canada and abroad.
Today, Rewaco has 3 models available. The LT, ST, & GT. Options available for these 3 models are some such as sound system, heated seats, trailer tow package, back up assistance, and much more! The RF1 features a 1.5L Mitsubishi 4 cylinder engine that also produces a 140-hp engine, and has an acceleration of 0-100km/hr in 5.9 seconds. It has a 7-gear CVT transmission, supplied by Punch Powertrain, which has a power shifter that allows the driver to select when the transmission shifts, or if you desire, can be put into a full automatic. This trike also comes equipped with a hand throttle and integrated foot brake.
A lot of people ask us why would a German company use an American drive line, a Japanese engine, and a Dutch transmission, instead of a German made one? People also wonder why these trikes are road legal and easily insurable, while their old Volkswagen trikes are no longer? Well, the answer is the same for both questions. To meet the new safety requirements that require between 25% and 70% of the weight to be in the front end of a trike, Rewaco needed to get away from the old rear mounted engines, and switch over to a mid-mounted one. This was accomplished by using a transverse engine that sits just ahead of the rear axle. It also still allows for plenty of room for luggage in the back. Prior to 2014, Rewaco trikes were imported into Canada under special permits, however, in 2014, Transport Canada approved Rewaco under its Small Manufacturers Appendix G Pre-Clearance program, meaning that they are fully approved by Transport Canada, and no longer require inspection upon being imported.
The Chassis & Power-Plants
Rewaco's RF trikes come with their standard tubular frame, mid-mounted engine, independent rear suspension, and a purpose built front end that includes a springer style suspension. The independent rear suspension with the springer front end allows for handling like no other trike on the market.
Customizable For Disability/Impairment
Rewaco trike's can be modified to allow for people with a disability to keep riding. Some of these include a Cervo hand brake to eliminate the foot braking system. Easy entry stainless steel platforms make it easier to get on and off. If you need an adjustment to be made to allow you to ride a trike, feel free to contact us, and we can discuss a way to make our trikes work for you!
---
RF1 and RF2 Sub-models
There are 3 sub-models to each model of trike. The difference in these trikes is all the body.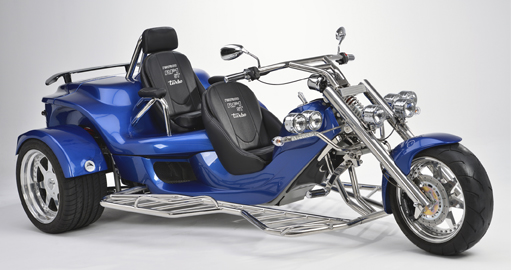 ST
The ST is the entry level sub-model and comes with a more basic setup for its body design. It has separate rear fenders with the tail lights directly on them and chrome bars with pads on them for armrests.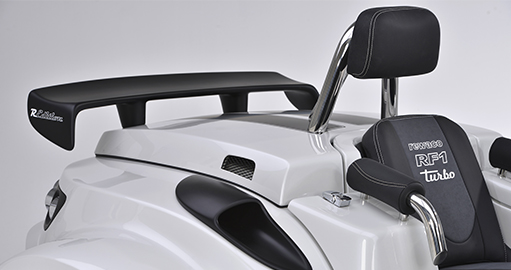 GT
The GT is a uni-body that has its tail lights molded into the trunk of the bike. The body is also molded up beside the passenger and gives you a glove box on the right side of the trike and hides the fuel filler and the trunk release on the left.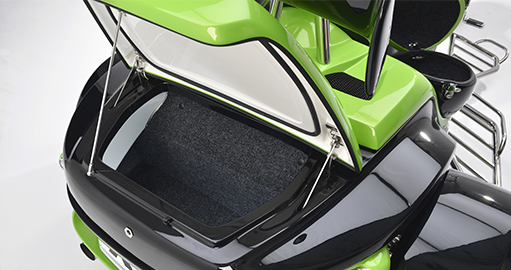 LT
The LT also includes lights molded into rear of the trike, but includes separate fenders like the ST and includes helmet holder on each side of the passenger seat that double as armrest for it as well.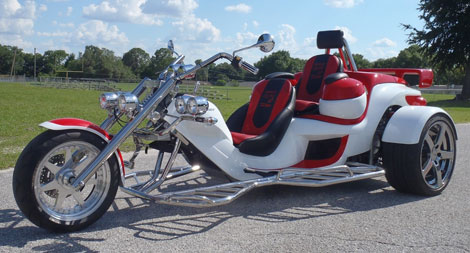 Racing Edition
The Racing Edition or R-edition, is a special addition that upgrades the braking system to a hi-spec system and adds stabilizer bar system to the rear suspension for added stability.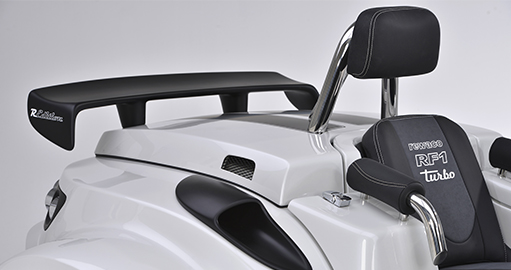 The Black Line
The Black Line is a new look available for the GT and LT2. It creates a new look by blackening out the stainless on the bike. Estoril blue, soul red, lava orange and light green are the exclusive colours to the Black Line edition. The Black Line edition also comes equipped with the R-edition.
Available Options
There are many options for Rewaco trikes that add more comfort to the ride. These options include…
Heated Seats
QuickChange Pedal Adjustment
Tires and rims
Footrests for Passenger
Alarm Device
Backup Sensors
Upgraded "Style" Handlebar
Specialized Colouring
Trailer Hitch
Radio and Sound System
Windshield
XXL Frame Extension
Immobilizer
---
Lazy Dawg Motor Trikes Inc.
---
If you have any questions about Rewaco Trikes and are interested in knowing more feel free to press the Contact us to email us, call us at 519-587-5041 or stop by anytime Monday-Friday 8-8 or Saturdays 8-5.
Interested in becoming a Rewaco Dealer? Contact Us!