Make Rust Check a part of your vehicle's regular maintenance for complete year-round protection. Rust Check is thoroughly applied by our professionally trained and certified technicians and the process is completed in about an hour.
Rust Check is a unique formula that penetrates into every crevice and seam of your vehicle, actually bonding to metal to displace and lock out moisture in critical rust-prone areas. This is especially important with today's unibody construction.
Rust Check cleans and protects your vehicle's electrical system to ensure worry-free operation year after year.
Rust Check helps to prevent door lock "freeze up" and lubricates moving parts such as power window and door mechanisms.
Rust Check penetrates and lubricates nuts and bolts to prevent from seizing.
Rust Check helps to eliminate squeaks and rattles and ensures hinges and cables operate smoothly.
Since Rust Check actually dispels water it can be applied at any time of the year, in any type of weather.
Rust Check has a proven reputation for total protection and can actually enhance the resale value of your vehicle.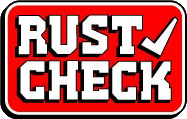 Book a Rust Check Appointment Today